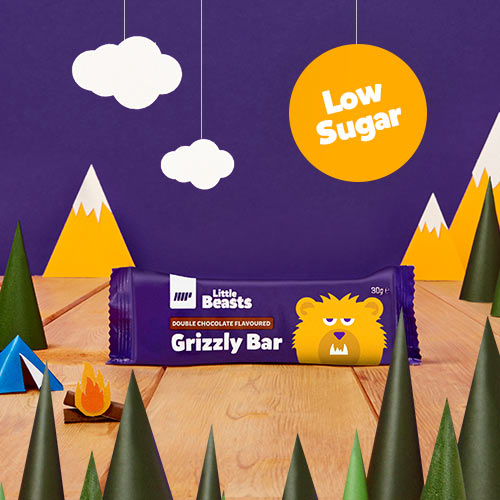 Grizzly Snack Bar
Made primarily with gluten-free oats and rice crispies, the Grizzly Snack Bar is the ideal healthy lunchbox option for active children to replace sugar-packed chocolate and cereal bars. With just 4.6g of sugar, around 55% less than your standard supermarket bar, allow your children to snack guilt-free whilst getting a healthy helping of protein, essential for bone development & growth.
The fibre-rich oats will help your children to stay fuller for longer unlike sugary snacks that wear off very quickly. The bars also contain coconut oil adding countless healthy benefits. The Little Beast Grizzly Bar has no artificial colours or flavourings - perfect! We know the importance of micronutrients in children's diets, which is why we have fortified the bars with vitamins and minerals that will support cognitive development and the immune system.
Shop Now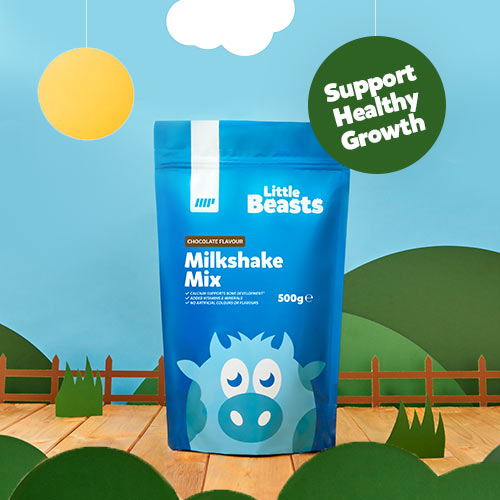 Milkshake Mix
Milkshakes are delicious but not all of them are healthy too. With 78% less sugar than supermarket alternatives, the Little Beasts Milkshake Blend ticks both boxes! Our unique blend designed specifically for active children contains skimmed milk powder, whey protein, oats and multivitamin powder. The low sugar, high protein and high vitamin content of the Milkshake Mix is incredibly beneficial for your child's development, growth and maintenance.
The Milkshake Mix is also an excellent source of dietary fibre and contains just 72 kcals, meaning it is ideal as a lunchbox companion or home snack. Available in two flavours, Natural Chocolate and Natural Strawberry, the shake will quench your child's sweet tooth whilst providing them with a whole host of benefits.
Shop Now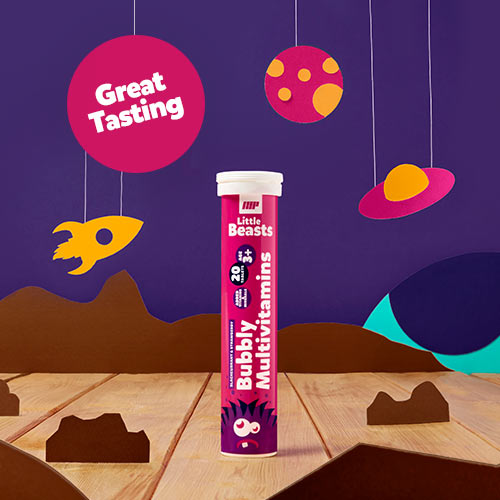 Bubbly Multivitamins
Vitamins and minerals are essential for health, growth and development, but parents can have difficulties in getting their children to eat enough fruit and vegetables. The Little Beasts Bubbly Multivitamin Effervescent aims to solve this by providing 18 essential micronutrients in one great tasting, fruity drink. With 12 vitamins and 7 minerals, including vitamin C, D, iron and zinc, our bubbly tablet will support cognitive development, your child's immune system, teeth and bones all at once!
Ideal for active children aged between 3 and 12, our Bubble Multivitamins contain no artificial sweeteners, colours or flavours. All you need to do is dissolve the tablet in 150-200ml of water and the drink is ready. Not only are they super healthy and yummy, your children can also have a mini-science lesson as the tablet fizzes away!
Shop Now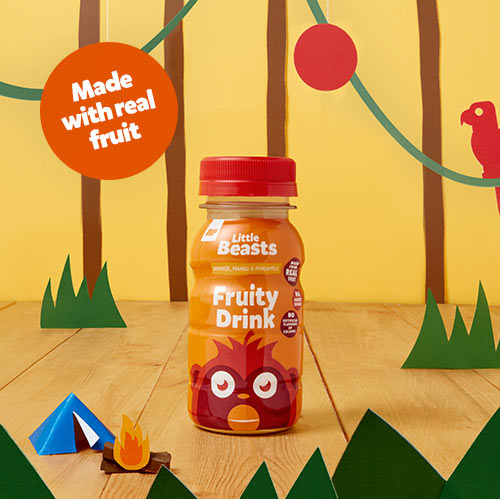 Fruity Drink
Providing just 100 kcals per 150ml serving and packed with natural fruits, the Little Beast Fruity Drink is the natural replacement for unhealthy soft drinks. By making the Little Beast smoothie with real fruit, it means your children will get 15% of their Recommended Daily Allowance of vitamins A, C and E - ACE indeed!
These micronutrients support the healthy development of eyes, teeth, gums and contribute to antioxidant protection. With over 5g of protein per drink, allow your children grow up well with healthy bone development. With no added sugar, Little Beast Fruity Drink comes in two delicious flavours: Strawberry & Banana and Orange, Mango & Pineapple. Allow your children to get their sweet fix and get fruity with Little Beasts Fruity Drink!
Shop Now